Just like that, you blink and another 12 months goes by. And, what a crazy journey it has been for major social networks throughout the year. From Meta's continuous decline to TikTok's progression and innovation and the ginormous shift in Twitter's leadership. With so many channels progressing to fit consumer needs, we have a few social media predictions in the New Year.
Let's jump right into 11 Social Media Predictions in 2023: 
Facebook:
Throughout the year, Facebook has struggled to keep young users interested when competing with Instagram and TikTok. The platform struggled quite a few times after TikTok's algorithm-led approach changed consumer behavior across platforms. But, Zuckerberg is optimistic that they have a plan to get things back on track:
More posts recommended by AI
Either a positive or negative, users are starting to see more content from pages and people they don't follow. This comes in an effort to keep up with competing social media platforms offering AI-based algorithms. AI suggested content helps engage consumers based on their specific interests. The goal is to maximize user engagement and provide more exposure for creators to encourage more creation on the platform. 
Bring Back Family + Friend Posts
Contrary to the previous prediction, while Facebook is going to begin to use AI-algorithms to offer new content to users, they are also making an effort to view more of the content family and friends are posting. To do this, they've separated initiatives on the Home vs. Feed pages.  Home will help you discover recommended content from creators. While feeds will allow you to see recent posts from friends and favorites. 
Click to Message Ads
More and more engagement is taking place in DM's. Meta is looking to highlight more tools to help brands lean in to this shift. Working toward educating marketers about the growth in click to message ads. As well as, helping to drive the new behavior by offering various ad options that align with the growth change.
Instagram:
Another ever-changing platform, making it difficult to anticipate the next change. Through, we're confident about a few social media predictions for 2023 on Instagram:
More AI-Recommended content
Like many other platforms, Instagram is leaning into AI content recommendations in an effort to maximize user engagement. After receiving complaints from various users, Instagram scaled back the amount of AI recommended posts while they worked on the tools necessary to deliver an exceptional user experience.
Futuristic Integrations
We're expecting Instagram to add new forms of content creation in the New Year. Anticipated innovation includes AR and 3D posts, and even integrating NFT art creation into the app. The platform is looking for more ways creators can showcase next-level types of art that will get users excited for the metaverse. Along with this innovation, will come new creation tools like GIFs generated from Live Photos. As well as, the integration of 3D creation tools direction into the platform itself. 
Live Shopping
Instagram has been experimenting with live-stream shopping. While working for some markets, we anticipate that the platform will continue to test and experiment before pushing out a separate tab for live shopping feeds. With this new feature comes a realm of possibilities for marketers. With that being said, the app is expecting for the feature to be a big earner for them.
Twitter:
Currently the most difficult to predict because of the rollercoaster we've all had the opportunity to observe this past year. Who knows what is coming next after Elon Musk has taken over? 
While some of the plans he shared are vague, from what has been discussed, there are a few predictions we can anticipate in 2023:
Bigger Subscriptions Push
Musk has already mentioned a number of times the plan to use subscriptions to boost Twitter's revenue. Subscriptions are also expected to help get rid of bot activity throughout the app. With the focus being on increasing revenue, he has also mentioned the idea of charging verified users a monthly fee to keep their blue "ticks".
Now, while not every verified user will want to pay a monthly fee to keep their status, for government and commercial users sharing information, it could be seen as another way of controlling media through paid means.
Authenticating Real Users
Aside from those who've climbed the mountain of fame and received a blue verified check mark on Twitter, Musk has shared that he is working on ways to authenticate every real user on the platform in an effort to minimize the amount of bot profiles. Similar to Twitter's reasoning, Facebook implemented a gray tick process working to ensure business pages were owned by real people and not scammers within the app. They have since removed this process, but with Musk adding the concept to Twitter it's possible we see Facebook reclaim their verification process again.
Longer Tweets
After being asked by a Twitter user in October for the elimination of character limits or a longer character limit – Elon happily agreed.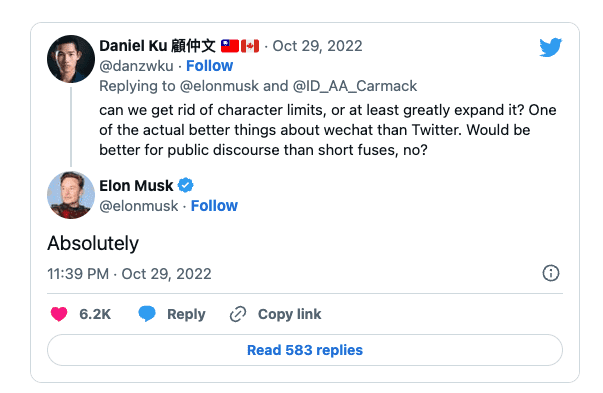 The Twitter user mentioned that one of the benefits to another social platform wechat is that users are free to write what they feel without being confined to character limit. The question isn't if Twitter will follow suit, but when?
LinkedIn:
Owning the largest database of professional and career insights, LinkedIn is finding more integrations to help users maximize their opportunities. In 2023, we expect LinkedIn to continue to improve their analytics by providing more data and LinkedIn learning opportunities to enhance engagement. Along with a few other enhancements: 
More Data Insights for Jobseekers
LinkedIn has transformed into a platform that could essentially map out any career. From providing educational information to career progression. The platform assesses what others in that field have done to gain the skills and experience they need to succeed. As a company on LinkedIn, this means that job listings will need to provide more details. But, also, that you may find yourself with qualified candidates with the data they are providing for jobseekers. 
Improved Video Connection Tools
Following the lead of other social platforms, video content is taking LinkedIn by storm. Offering a variety of features to connect with others via video. Going a step further from the mainstream short-form content, LinkedIn is expected to roll out more advanced tools. This will include zoom-like video meeting options and live-streams, as well as ways to link employers with prospective candidates. 
So, as we move into the New Year, let's keep an open mind and be prepared for the continuous changes in social media. These social media predictions for 2023 are just a glimpse of what could happen – there's so much potential for growth in this industry! Make sure to subscribe to our newsletter so you can stay ahead of the curve and continue scaling your business with top-performing marketing strategies. Wishing everyone an amazing New Year full of prosperity and joy!