Are you ready to take your social media experience to the next level? Get ready for Threads, the latest app from Meta, designed to revolutionize the way you connect, share, and engage in real-time conversations. As your trusted digital marketing agency, Adapting Social is excited to introduce you to Threads—a fun and creative space where you can express yourself through text updates. In this guide, we'll walk you through the key features and benefits of Threads, helping you navigate this exciting new platform.
Seamless Integration with Instagram:
Threads seamlessly integrates with your existing Instagram account, making it effortless to log in and start using the app. Your Instagram username and verification will carry over, offering a familiar experience while giving you the option to customize your profile exclusively for Threads.
Real-Time Updates and Public Conversations:
Threads provides a separate space for sharing real-time updates and joining public conversations. Whether you're a creator or a casual poster, this app offers a positive and creative environment to express your ideas and engage with others who share your interests. Connect with friends and creators beyond your Instagram circle, and utilize the suite of safety and user controls that you're familiar with.
Enhanced Content Sharing:
With Threads, you have the freedom to share text posts up to 500 characters long, along with links, photos, and videos up to 5 minutes in length. Easily share your Threads posts to your Instagram story or other platforms, amplifying your content's reach and impact.
Positive and Productive Conversations:
Threads is designed to facilitate positive and productive conversations. Take control of who can mention you or reply to your posts within the app. Utilize hidden word filters to eliminate replies containing specific words, ensuring a tailored and enjoyable experience. Unfollow, block, restrict, or report profiles with ease, and rest assured that Instagram's Community Guidelines are enforced to maintain a safe environment.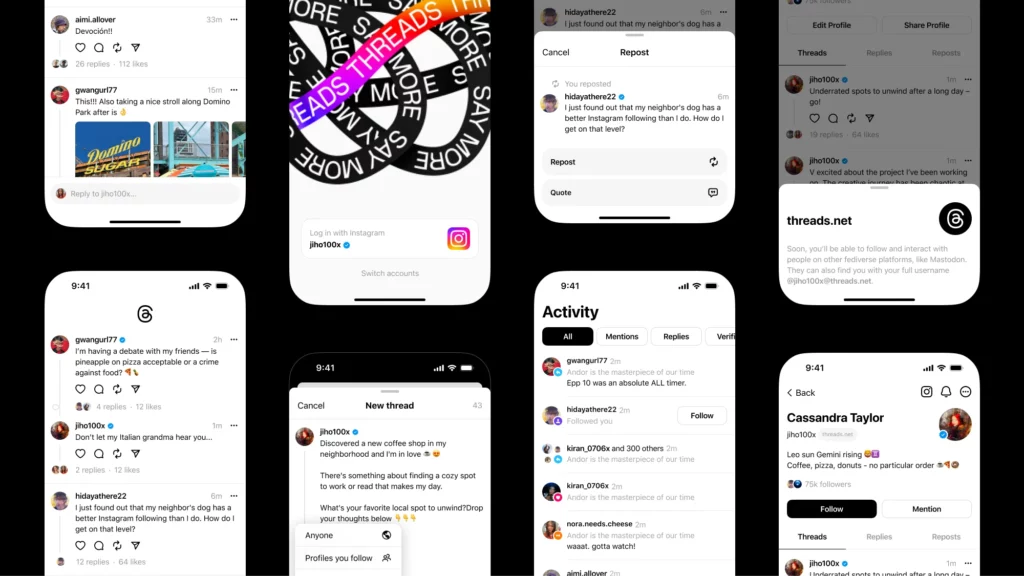 Create Your Profile on Threads:
To create your profile on Threads, follow these simple steps:
Download the Threads app from either the App Store (for iPhone users) or the Google Play Store (for Android users).
Open the Threads app by tapping on its icon.
At the bottom of the screen, tap on "Sign in with Instagram." This will display the Instagram account that you are currently signed in to.
If you're not signed in to the Instagram app, tap "Log in with Instagram" at the bottom. Then, enter your Instagram account credentials. Once logged in, you will be redirected back to the Threads app.
If you have multiple Instagram accounts and want to sign in with a different one, tap "Switch accounts". Then, select the desired account. If you don't see your account listed, tap "Log in to another Instagram account" and sign in with your Instagram credentials.
Once you have successfully logged in with your Instagram account, you can customize your Threads profile by following these options:

To add a profile picture, tap on the profile picture next to your name. Then, choose how you want to upload the picture.
To write a bio for your profile, tap on "Bio," enter your desired bio text, or tap "Import bio from Instagram" at the bottom and tap "Done" in the top right corner.
To add links to your profile, tap on "Link," enter the URL and title for the link. Or, tap "Import link from Instagram" at the bottom. Tap "Done" in the top right corner when finished.
To discover profiles you may want to follow, tap on "Following". You can then select profiles to follow by tapping "Follow" next to their names.
To import all the above information from your Instagram profile, tap "Import from Instagram" at the bottom.

Once you have completed customizing your profile, tap "Continue" at the bottom.
Choose whether you want to have a public or private profile by selecting the appropriate option at the top. Then, tap "Continue" at the bottom.
Review the terms and policies, and when you're ready, tap "Create profile" at the bottom.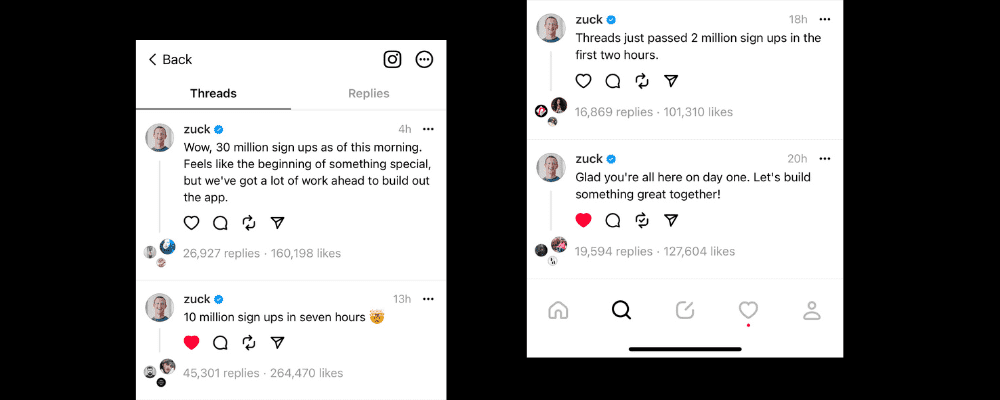 How to Start a New Thread
When it comes to Threads, a thread refers to a post that appears both on your profile and in the feed. It offers the flexibility to include various types of content. This could be content such as text, links, photos, videos, or a combination of them. The visibility of your thread depends on your profile's privacy settings.
To post a thread on Threads, follow these steps:
At the bottom of the screen, tap on "Post."
Enter the content you want to include in your thread.
If you wish to attach a photo or video to your thread, tap on "Attach" and select up to 10 items you want to include. Tap "Done" (for Android) or "Add" (for iPhone) in the top right corner.
To add more content to your thread, tap on "Add to thread." If your thread exceeds 500 characters, an additional thread will be automatically created.
If you want to change who can reply to your thread, tap on "Anyone can reply" at the bottom left corner. You can choose to limit replies to Profiles you follow or restrict it to "Mentioned only."
Finally, tap on "Post" at the bottom right. As your thread is being posted, you'll see a progress bar at the top of the screen.
In conclusion, Threads opens up a world of possibilities for individuals and businesses alike. The platform provides a fresh and dynamic space for authentic self-expression and meaningful connections. With its seamless integration with Instagram, customizable profiles, and innovative features like real-time updates and public conversations, Threads empowers users to engage in positive, productive discussions while amplifying their online presence. As a digital marketing agency, we recognize the immense potential that Threads brings to the table, and encourage you to embrace this exciting new platform. Remember to tune in to Live Trends every Monday at 11 AM EST to stay up to date with the latest news and information.