Instagram, the popular social media platform, has recently added a new feature – lead forms on business profiles. The new feature is designed to help businesses generate leads, build their email lists, and drive conversions directly from their Instagram profiles.
What is a Lead Form?
Lead forms on Instagram allow businesses to create digital forms that potential customers can fill out directly from their profiles. This eliminates the need for them to navigate away from the platform. The feature includes pre-populated fields; such as, the user's name and email address making it convenient to share details. Businesses can customize form fields to fit their specific needs and goals.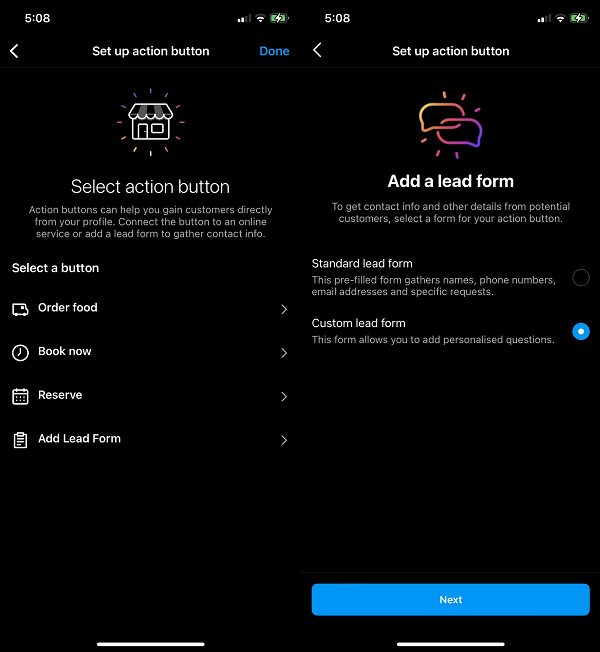 Instagram Lead Form Benefits
One of the key benefits of lead forms on Instagram is that they can help businesses increase conversions by making it easier for potential customers to engage with their content and provide their contact information. By streamlining the process of lead generation, businesses can improve their chances of converting leads into customers.
Another benefit of lead forms is that they allow businesses to collect valuable data about their potential customers. This includes their contact information, interests and preferences. This data can be used to personalize and optimize future marketing efforts and improve the overall customer experience.
How To Create an Instagram Lead Form
Instagram's lead forms feature is available to businesses that have a professional account on the platform. To access the feature, businesses need to navigate to edit their Instagram profile and select the "Contact" button. This will allow them to create and customize their forms.
In conclusion, the addition of lead forms on Instagram is a significant step forward for businesses looking to generate leads directly from the platform. With the ability to collect valuable data and streamline the process of lead generation, businesses can increase conversions and build their email lists, all from within the Instagram app.