Gain the attention of followers with your own unique content.
2,230,000,000. That is the number of active Facebook users for Q2 of 2018. To those that aren't very active on social media, this large number may be shocking, but to those the venture on to social media on a daily basis, that number couldn't be any more accurate. As soon as you sign in to any major platform, such as Facebook, Twitter, or Instagram, you are immediately greeted by a flood of photos, videos, advertisements, and captions that are uninteresting more times than not. From pictures to your aunt's most recent trip to Phoenix, Arizona to an advertisement from a local pizza place, some images, and videos that you come across get old fairly quickly. As a business owner, success on social media is extremely important for properly showcasing your unique brand, building your client base, and allowing followers to see what makes you unique. Social media is the voice of your business. A major component of a social media strategy that works to maximize your business's exposure involves authentic content. Today, many social media users are millennials, who resonate much more with authentic content than anything else on social media.
But first, what is authentic content?
To put it simply, authentic content means honest content. It involves photos and videos of you and your business that no one else could possibly have. These photos and videos could be anything from you walking into your office on a Monday morning to a meeting with a new client to one of your products in use. In a world where saturation is a constant issue, standing out in your own way can make a humongous difference. Followers will love having the opportunity to learn about you and your business through real posts rather than boring graphics or posts that are just text. Followers can spot false advertising from a mile away, so be sure that your social media presence properly reflects your business and mission.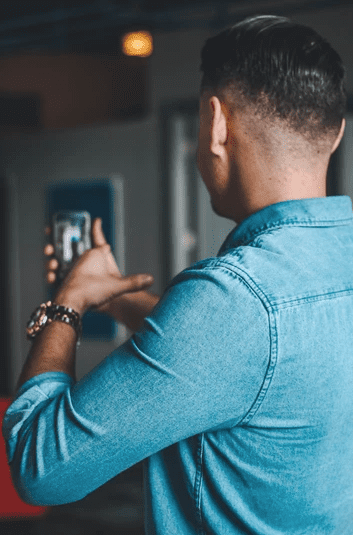 The power of authenticity
According to a recent survey, 84% of customers trust online reviews just as much as a recommendation from a friend. Also, it takes just one negative review to change a potential customer's opinion of your business. Why do consumers take these reviews so seriously? Because they are not biased, they are completely authentic. In order to add value to your strategy, consider getting positive video testimonials from clients! These are REAL people who support and love your product or services. These videos are perfect for all marketing purposes from your website to an email.
As members of society, we are constantly susceptible to what is known as the cult of personality. Many consumers base their buying decisions on emotions rather than logic, which is why some organizations will always seem infallible. Now you may be wondering, "what does all of this have to do with authenticity?" Authenticity is not concerned with either statistics or even logic, it is all about being honest. This honesty will be the building blocks of trust. Credibility and authentic content go hand-in-hand. Never forget, people like people not brands. Showcasing your team and who you work with is SO important!
The basics of marketing authentically
Be consistent – Don't try to break your stream of authentic content with off-brand humorous images. Your followers will appreciate your honest content much more than any joke.
Find your voice – Is your company's voice on social media quirky, serious, or motivational? The tone you use should pair flawlessly with your brand, your business, and your mission.
Be relevant – Everything from your titles to descriptions should be informative, different, and encourage those that come across your information to be itching to learn more.
Know your audience – If you are a plumber, posting an off-brand political post will not help you grow your business and can even end up hurting you in the long run. Post content that you believe each and every one of your followers will enjoy.
Be respectful – Just as respect is important during face-to-face interactions, it is important on social media. Always treat those that come across your page well. You never know who could see a mean comment that you leave. This comment could rapidly snowball and end up hurting your following ratio as well as the number of customers that you have.
The benefits
More engagement – Followers are more likely to respond to relatable real content than they would respond to generic graphics or irrelevant videos.
Add value – Real photos and videos make you an authority. You become much more of an expert in your field when you can actually show potential customers what you are capable of and how passionate you are.
Top-of-mind awareness – After seeing your honest content, followers will remember you and will consider your brand when making purchases.
Loyalty – Real content leads to more brand content and also advocacy. Wouldn't you rather use someone's services who is an expert in their industry than anyone else?
Positive reviews – Authentic content shows how much you care. If you post asking for positive reviews, more people will respond due to their emotional connection with you and your business.